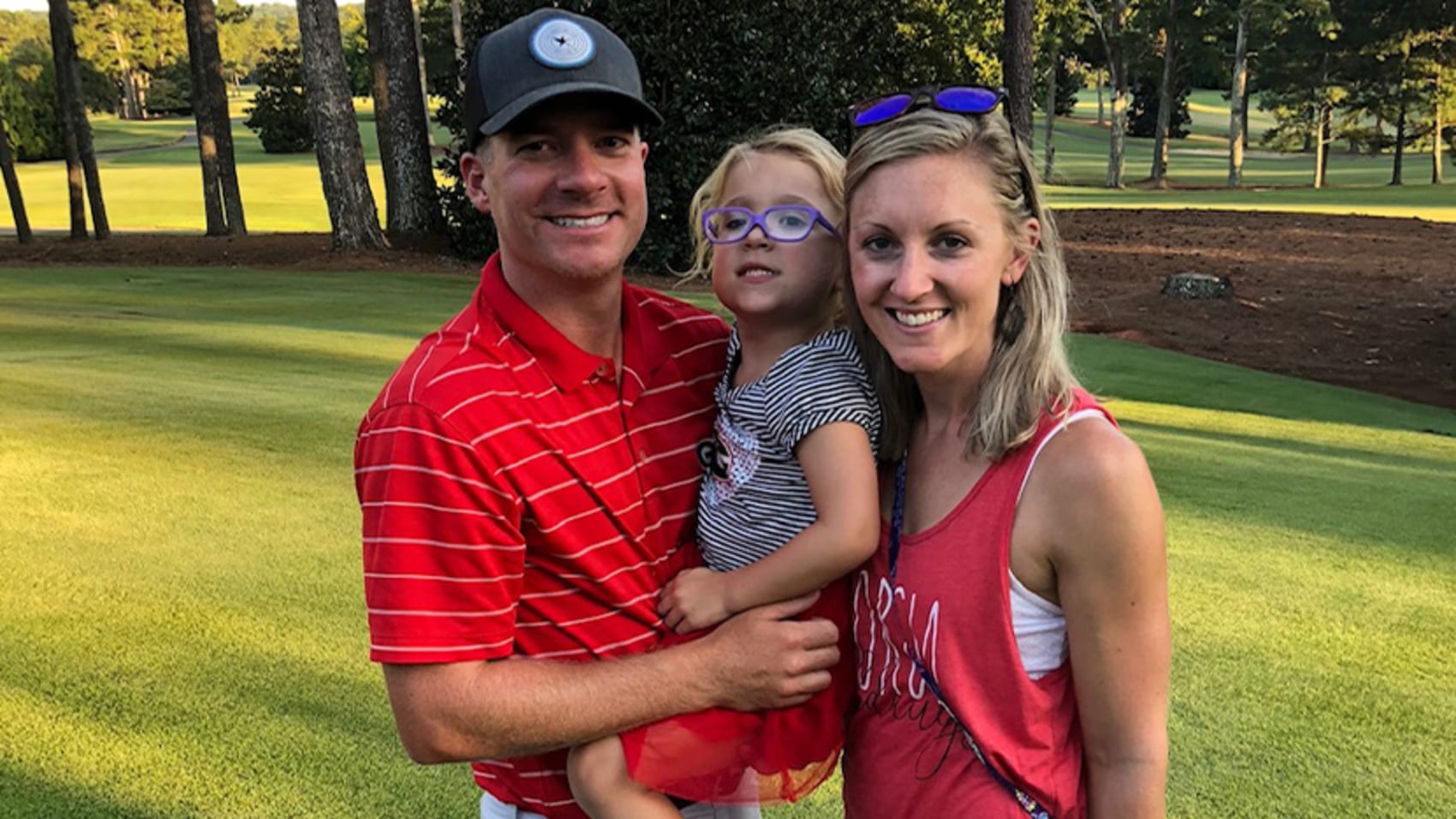 From PGATOUR.com
ORLANDO, Fla. – On her good days, Charley Odom is an energetic 5-year-old with big purple glasses who loves to dress up like Elsa and her older sister Anna, the princesses in Disney's wildly popular "Frozen" movies. She likes to watch "Paw Patrol" and she's hooked on the "Elephant and Piggie" books, too.
"She was stuck on 'Cat in the Hat' for a while," Charley's dad, Bryant Odom, says with a weary chuckle. "We needed a break from that."
But there are days on end when Charley is bedridden, sometimes hospitalized, when another bout of cyclic vomiting syndrome (CVS) strikes. Some of her episodes last as long as 10 days, and there have been times when the little girl has thrown up more than 100 times in 24 hours.
"I think what hurts the most about it is we have no control over it," Bryant says. "As small as she is, she doesn't really understand what's going on. I mean, she knows that she's sick, but when it first started when she was smaller, she didn't know anything about it. Of course, she couldn't control anything.
"And that's the tough part about being a parent is watching it. There's really nothing we could do."
This week, though, a group of PGA TOUR players are going to help Bryant, the golf coach at Kennesaw State, and his wife Abbi, raise awareness about the rare disorder that affects less than two percent of every 100,000 children according to the National Institute of Health.
There is no cure for what the Children's Hospital of Wisconsin described as "one of the more unrecognized, misdiagnosed and mysterious childhood diseases." Finding the right combination of drugs to treat the condition is a bit of medical trial and error and there are very few doctors who specialize.
"The pediatrician one time was like, 'You're like a pharmacist and a teacher, and a nurse, all together,"' says Abbi as the kindergarten teacher juggles a phone interview while she mixes up her daughter's medicine.
At the Arnold Palmer Invitational presented by MasterCard, J.T. Poston, Keith Mitchell, Chris Kirk, Harris English, Kevin Kisner and Brian Harman will be wearing the blue ribbon of the CVS Association. The six will also be making a contribution to Charley's medical fund.
It's a family affair, in more ways than one. Four of the players are Georgia alums like Bryant and Abbi. Bryant later coached Poston at Western Carolina – and was among those celebrating at Sedgefield Country Club last August when he made the Wyndham Championship his first TOUR title.
"It just shows us how blessed we are to have friends and family that they keep up with us and care about our situation, and they want to use their platform to help," says Bryant, who won the 2001 SEC Championship and played one year on the Korn Ferry Tour before deciding to go into coaching. "And it's satisfying to know that we can help some people because we know what a difficult time we've had going through it."
A year ago, the same five players made donations for birdies and bogeys during the entire month of March. This year, though, the decision was made to focus attention on this week since Thursday is international Cyclic Vomiting Syndrome Awareness day.
"It started with the Odoms," Poston says. "… Having seen what Charley's gone through, they want to help other people trying to find an answer and we're pretty well connected with them. They know several of the other guys out here from their days in Georgia, so they've got a pretty unique situation where they can use those relationships and we can use that platform to really see if we can make a difference.
"Whether it's big or small, any step in the right direction is going to be a good step since there is no real cure."
Poston actually was playing for the Catamounts when Charley, whose real name is Charlotte, was born. He usually sees her at least once a year – "She's really funny," Poston says with a smile. "Just dolls and dressing up and stuff." — and keeps up with her progress through Abbi's regular social media posts.
"You can follow her when she's having some tough times, and you can see when she's doing better," Poston says. "Either it's night-and-day difference but I couldn't imagine. It does not look easy. It does not look comfortable, but she keeps going.
"Obviously (we're) hoping she can get better and find something that works down the road."
Charley, who was an IVF blessing for her folks after a miscarriage and an ectopic pregnancy, faced challenges from the outset.
She came into the world nine weeks premature. Abbie had polyhydramnios, which is an excess of amniotic fluid, and caused her body to think the baby was full term. The condition was due to a trachea esophageal fistula that Charley had that didn't allow her to correctly process the fluid in the womb.
The day after she was born, Charley had to have surgery to repair the fistula, as well as an esophageal atresia, which is a separation in the esophagus. She would go on to spend two-and-a-half months in the neonatal ICU.
The surgeries made Charley's airway floppy and she always can't cough up and clear mucous like most of the rest of us. So, she is more susceptible to colds and pneumonia and ear infections that often trigger her bouts of CVS, which was first diagnosed in June of 2017.
The vomiting can happen as frequently as every 5 to 15 minutes in episodes that can last as long as 10 days and are 2-3 weeks apart. Charley is left dehydrated and weak since she can't keep any food down. Doctors have used several different kinds of feeding tubes to give her nourishment, settling on a MIC-KEY tube that gives access to her stomach and intestines through a port above her bellybutton.
"When she starts an episode, we do Pedialyte at a really high rate per hour, almost like an IV, and we do that really high, and try to keep her hydrated," says Abbi, adding that it's cut down on trips to the nearest children's hospital, which is 45 minutes away, without traffic.
In addition to colds, anxiety also triggers Charley's CVS. The National Organization of Rare Diseases notes that "researchers now believe that the primary organ affected is the brain and the symptoms of the disorder develop due to abnormalities in the normal interaction between the brain and the gut." According to the Children's Hospital of Wisconsin, most children outgrow the syndrome when they reach puberty but about 95 percent will be prone to migraine headaches as they grow older.
"All along, we kind of thought anxiety might be something we should look at, but at that time, I mean she's only two years old, and I guess it's kind of hard to figure out what anxiety really looks like at that age," Abbi says. "But we knew she was always on the worrier side, like right before the condition started that June, she started to be a little bit more clingy and wouldn't talk to people or look at them without me having to force her to wave at somebody or say hello."
Charley was eventually diagnosed with general anxiety disorder, as well. So, Abbi worries about noisy rooms and birthday parties, even family vacations – they took their first, to the beach, last summer — that might make Charley uncomfortable.
But the anti-anxiety medicine that she started in May of 2019 has gone a long way toward eliminating that trigger. Charley has gone as long as 11 weeks without an episode; right now, she's two weeks clear.
So, does she know that Poston and company are playing for her and to raise awareness of CVS this week at Bay Hill? Maybe, maybe not. But her parents are hoping to get the word out, and perhaps raise a little money for the CVSA in the process.
"She hears us talk about J.T. and we obviously talk to her about golf all the time," Bryant says. "… We showed her the ribbon and we told her that there was going to be some golfers helping her and helping out the situation. I don't think she quite understands what that means.
"But she knows that she's got friends and all that. When those guys come here and we get together, or I talk to them on the phone or I show her a picture, I'll say, 'That's Daddy's friend that has helped you.'
"I think one day she'll understand it."